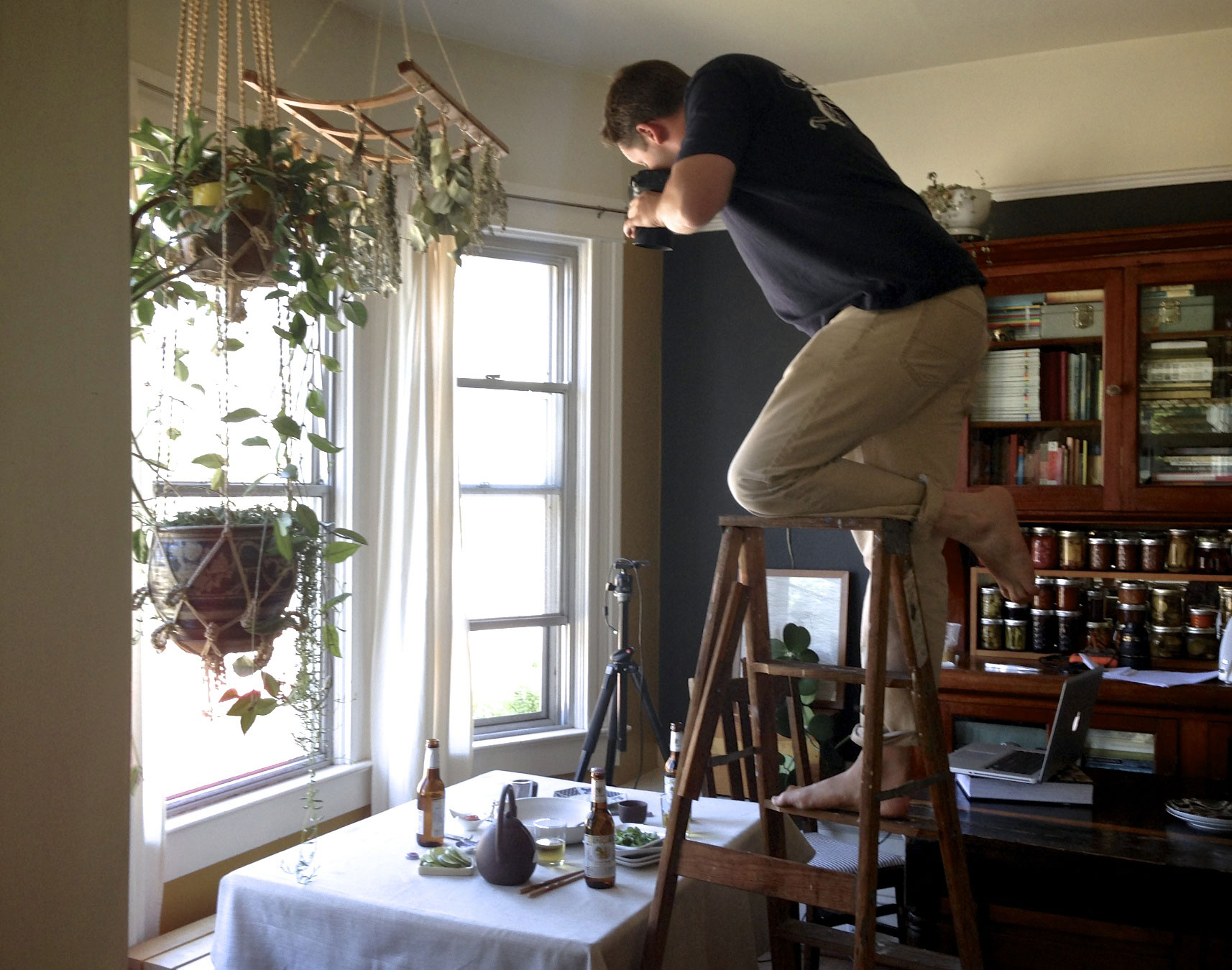 the following excerpt was taken from a recent interview with the photographer....
Q. Who's someone famous you would like to have dinner with and what would you cook them?
A. Woody Allen. or maybe Dean Martin. (not at the same time.) Either way, I'd probably make a lasagna.
Q. Who would you like to go drinking with?
A. Julia Child. or Dean Martin. (definitely at the same time).
Q. You cooked professionally for 12 years. How does that effect your approach to photography?
A. Having been in the trenches, as they say, has definitely molded my approach. Cooks and farmers are real, hardworking, dedicated people and i want to portray that in my imagery. I feel there always needs to be an authenticity in my shots. I am not interested in creating a visual fallacy. Food is meant to be handled, transformed, eaten; not put on a pedestal. When someone sees one of my food photos, I want their first reaction to automatically be, 'Damn, I wanna eat that right now!' Basically the same response I would want were I cooking for them.
Q. Who would play you in a movie?
A. I could see Peter Sarsgaard doing it justice. Or maybe Woody Harrelson. I guess Mark Wahlberg could do it, if he lost a lot of muscles and the grew a mustache.... which i'd actually kind of like to see either way.
Q. Do you have any embarrassing guilty pleasures?
A. Doritos with french onion dip. And the Counting Crows.
Q. If you could travel back in time, where would you go?
A. I think i would like to go back to the 1920s in New York, do a little bootlegging, and then travel by cruise ship, (first class accommodations) to Paris and hang out with the American ex-patriots. I'd also like to go back to 1980 and see McEnroe beat Connors in 5 sets at the US Open.
Q. Who are some of your photographic influences?
A. In my formative years, i spent a lot of time with the books of Henri Cartier-Bresson, Diane Arbus and Irving Penn. I still consult Penn's still lifes for insipration. For food photography, i am constantly hunting down old issues of Gourmet to study the shots of Romulo Yanes. He was a huge influence when i was developing my style. Plus he's a fellow Jersey boy. Recently i've discovered the work of Carmen Troesser. Her farm shots are gorgeous.
Q. Well, last but not least, If you had to sum yourself up in one sentence.....
A. That's easy. As Polonius said to Laertes.... "This above all: to thine own self be true."